4.5 Piratas (51' Sea Ray) - 6:00 pm Twilight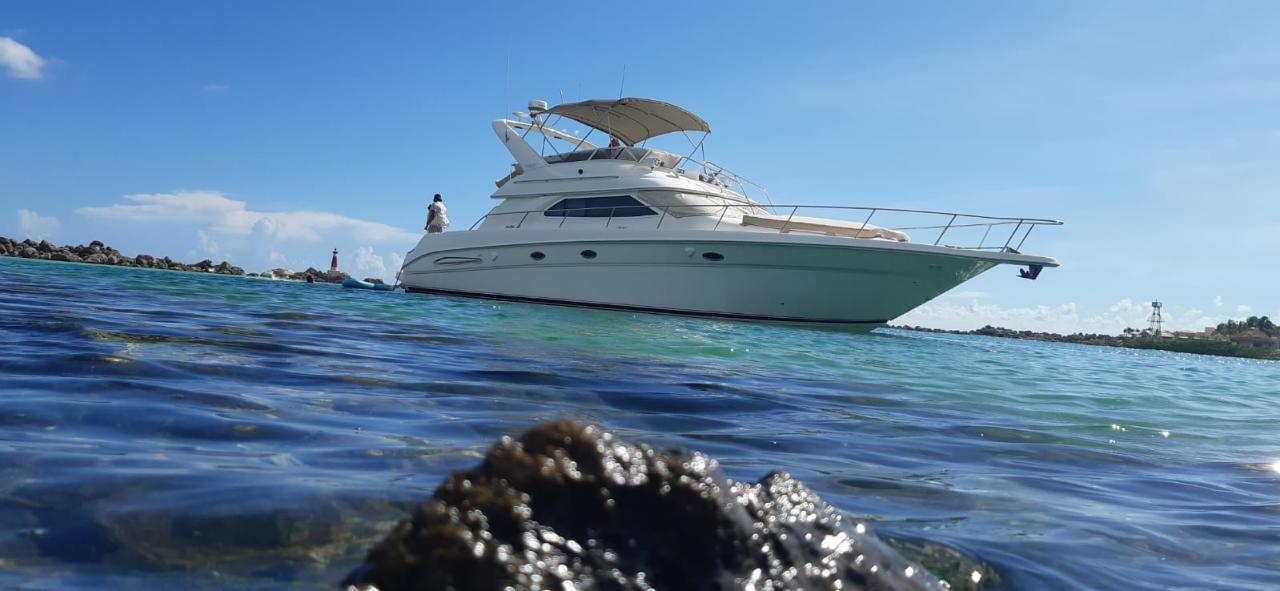 Duration: 2 Hours (approx.)
Location: Puerto Aventuras, Quintana Roo
Product code: 4 Piratas/PM-PRIVATE
This vessel cruises you comfortably and in style through the Riviera Maya. She's agile, sleek, and built to give you the best seafaring adventure. With seating on the flybridge aft deck, sunbeds, and a cool interior, she can comfortably house you and your guests for the evening! Our qualified crew will be on-hand wherever, and whenever, you need them to provide you with the five-star service you deserve.

Price is all-inclusive with the following included:
Standard open bar including water, juices, and sodas
A specially catered meal of seasoned, fire-grilled chicken accompanied with tortillas, tortilla chips, freshly made guacamole, traditional Mexican beans, rice, fresh salsa, and additional sauces
Bluetooth available and access to Spotify to enjoy your own music or playlist
Swimming and access to paddleboards
Upgrade your adventure. Once you book, you have the option to upgrade to Premium Bar, bottle service, and more!
Please note the following Marina fees must be paid separately on-site upon arrival, they are not invoiced on your bill with us nor payable through H2Oh Sun Cruises.
The total fee is $10.00 USD or $200.00 MXN per person, as is broken down as follows:
Puerto Aventuras Marina entrance fee: $8.00 USD or $160.00 MXN pesos per person.
Conanp fee ("Commission of National Protected Areas.": $2.00 USD or $40.00 MXN pesos per person. If paid by card, a processing fee of %3.5 is applied.
ZERO-TOLERANCE
The ocean is our happy place. We kindly ask you to respect both our boats and our crew as we embark on our seafaring journey together.
H2Oh is all about adventure. In order to curate these adventures for you, we ask that you abide by the following rules refrain from the following while on our yachts:
no sexual misconduct is tolerated (all of the rooms operate on an open-door policy)
no nudity as per the Mexican Federal Law
no illegal activities are tolerated (example: drugs)
no drunk and disorderly behavior is tolerated
no hookahs or shisha are allowed onboard as they are deemed a fire hazard
All alcohol on board must be provided by H2oh Sun Cruises. No attendee is permitted to bring their own alcoholic beverage onto the premises. Under no circumstances will alcohol be consumed by persons under the age of 18.
If the above rules are violated:
The tour will be effectively canceled immediately if any of the above occurs and we will return to the dock to escort your group from the premises.
At H2oh Sun Cruises, sole discretion may request the support of law enforcement officials if necessary to terminate the event. We will also not incur any liability due to irresponsible drinking or enforcing the provisions stated in this paragraph.
These rules are in place to ensure the safety and comfort of our guests, as well as our crew. Thank you!